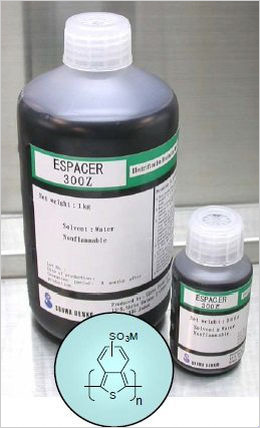 ESPACER 300Z는

E-Beam Lithography용 전도성 고분자 물질로
Poly(5-sulfoisothianaphthene-1,3-diyl)로 이루어져있습니다
SHOWA DENKO社제품입니다.
ABOUT FLEXIBLE SOLDER MASK
It is used as a film for Electrification Dissipating Material this contains the original conducting polymer. The thin film of ESPACER has a high conductivity; therefore it solves the problem about the positional error on the electron-beam (EB) lithography process< It has an excellent charge dissipating effect with sheet resistance 7 x 105 ohm/sq at 20 nm thickness and conductivity of 0.7 S/cm. It has no adverse effect on resolution of resists. It can be applied not only onto conventional resists but also onto chemically amplified resists. There are cases where it can protect the resist as an acidic polymer film.The spun film has sufficient heat resistance in practical uses Water alone is used as solvent. It has neither a flash point, nor an ignition point, nor limits It can be easily removed with water after exposure.